MACH Rosehill's Double Hauler,*** ADHF, WCX
"Sage"
A Hero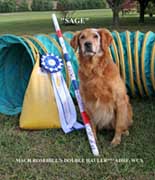 Today is a sad day for Rosehill Retrievers. Baby Sage just short of his 14th birthday lost his battle with cancer. A 6 year survivor of maxillary fibroid sarcoma he was hit with mouth cancer and it was so aggressive within 3 days he went from running and retrieving bumpers to not being able to bark due to the pain it caused. I didn't want this dog to ever have to endure pain again and so sad to see a dog that loved retrieving more than breathing not able to pick up even a soft puppy bumper broke my heart. What a spirit this dog has had his entire life. I was humbled by his bravery and no matter what the odds this wonderful boy never complained.
After his recovery from his radiation and surgery for the maxillary fibroid sarcoma Sage was ready to get back to training. We trained and we ran agility trials and he never missed a beat. He lost some of his sight in his left eye as a residual effect of the radiation and would sometimes miss the tunnel entrance because he could not see the opening in the dark horse arenas where most of our trials are held. I would come out of those runs with tears in my eyes and Sage, being the trooper he is would come out as if to say, "Did you see that turn and didn't you love that run?" He was always so happy. So, he wasn't feeling sorry for himself and neither could I. I could not let him down as he was giving me all he had so I made up my mind to get myself at the entrance and the exit of the tunnels so I could give him the information he needed to know where to go next. Once I made up my mind, it wasn't so hard and Sage earned his well deserved MACH (Master Agility Champion) title and he did it at warp speed. He was exhilarating to run!
No dog exhibited a more sweet disposition nor a bigger heart and he always gave me 200% regardless of his task. He lived each day as if it were his last with the energy of an army. Sage was born with joy in his heart and I wanted him to leave this world the same way. We spent the morning walking the fields with his housemates, sniffing the ground, wagging his tail and checking back with me to be sure I was hanging with the pack. He was one amazing little guy. In every way he was a champion. He is my hero. Remembering Baby Sage and in my heart forever.

August 21, 1998 - June 4, 2012
 Click here to see Sage's pedigree or (click again to make it disappear)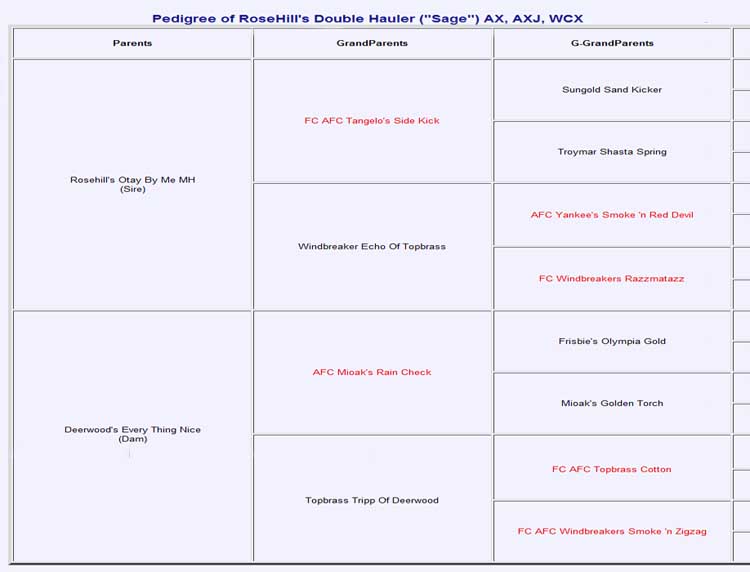 Click here to see Sage's clearances or (click again to make it disappear)